About Founder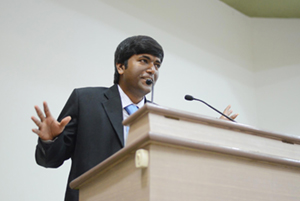 Praveen Vettiyattil, an inventor, is on a mission to transform a million people into inventors by 2025. Yes, you read that right - A MILLION PEOPLE INTO INVENTORS. Like Karl Benz's invention of the automobile created one out of every six jobs today, Praveen believes that every major invention creates hundreds of factories resulting in millions of positive and permanent jobs urgently needed for global peace and prosperity.

He is CEO of YCI Technologies, Thrissur, Kerala, India and the founder of the global 'You Can Invent' movement. He started YCI Technologies, a mechanical engineering research and development company to develop and commercialize his engineering inventions. YCI Technologies also conducts training workshops on 'how to invent' for R&D engineers in industry, engineering students, engineering faculty, school students and school teachers. His recent inventions include pedal powered centrifugal pump, pedal powered water lifting machine and a new technology in closed space cooling. He maintains a dairy of several mathematical and statistical formulas that he discovered independently, which includes a method to calculate the value of Pi (3.14) to any number of decimal places. He wants to put his engineering know-how to make this world a better place to live in and train young minds the art of inventing. He holds a patent for an energy saving technology in street lighting and has developed energy saving and low cost technologies in transportation and solar tracking.

In April 2015, he was the only inventor invited from India to present his inventions at the Research and Development section of Hanover Fair in Germany. In 2009 while working as Director of Renewable Energy at a University in Tamil Nadu, he implemented South India's first automated small wind turbine at a University campus that powered 30 LED street lights from wind energy alone for 9 months in an year. During his 7 year long academic career as an engineering and business school faculty in India, he taught 15 mechanical engineering subjects and 8 MBA subjects.

For 20+ years Praveen worked in industry, taught in engineering and business schools, was an entrepreneur and developed many new technologies that are all world's first. Having converted several dozen product ideas into working prototypes, Praveen possesses advanced knowledge in CAD/CAM and other manufacturing processes. While working as process optimization engineer at KLA-Tencor Corporation, Milpitas, California, he was given an award for his contribution towards improving manufacturing productivity and reducing manufacturing cycle time in 2001. While working for Hitachi Air Conditioners in Doha as a Sales Manager in 1998, he lead a team that implemented HVAC projects worth $500,000. His talk on 'You can invent' has been delivered in more than 100 leading engineering colleges, schools and Innovation conferences in India, middle east and Germany and has influenced more than 100,000, mostly engineering students. Praveen holds a master of science in manufacturing engineering from University of Southern California and bachelors in mechanical engineering from University of Calicut. In 2013 he was given a national level innovation award for his socially conscious inventions and was the keynote speaker at the Indira Innovation Summit, Pune. He is the first Indian to speak at a TEDx in middle eastern countries and has presented thrice on TEDx, the last one being at TEDx Sharjah in 2012.

Praveen was president of Shuttle badminton team at University of Southern California and was Shuttle badminton team member at Government Engineering College Thrissur. Won first place several times during inter university competitions.


Recent inventions
Pedal powered water lifting machine
https://www.youtube.com/watch?v=7kWgertoCIs
https://www.youtube.com/watch?v=wOVPNN1plsI
World's first Pedal powered water lifting machine
https://www.youtube.com/watch?v=_APJLx4jbFI
Selected recent talks and appearances:
Government Engineering College, Thrissur, 19/11/2019
MES Engineering College, Kuttipuram, 10/11/2019
Sree Valluvanad Vidya Bhavan, Perintlmanna, 06/08/2019
Government Engineering College, Kannur, Kerala - 20/03/2019
Global English School, Kozhikode, Kerala 18/03/2019
Zayed University, Dubai Campus, UAE, 18/02/2019
Indian School, Al Ain, UAE, 10/02/2019
Global English School, Al Ain, UAE, 04/02/2019
Government Engineering College, Kozhikode, 10/11/2018
Government Higher Secondary School, Kokkallur, Kerala, 09/11/2018
Government Engineering College, Kozhikode, 10/10/2018
Rotary Club, South India meet, Lulu Convention Center, Thrissur, 17/02/2018
Rotary Club, Thrissur city, 05/01/2018
BML Munjal University, Gurgaon, Haryana, 14/12/2017
IIT Delhi, 13/12/2017
NIT Uttarakhand, 12/12/2017
Institute of Technology Gopeshwar, Uttarakhand, 11/12/2017
VNR Vignana Jyothi Institute of Engineering and Technology, Hyderabad, 03/11/2017
NIT Calicut, 14/10/2017
NIT Surathkal, 12/10/2017
Nirmala College of Engineering, Thrissur, Kerala, 06/10/2017
Zayed University, Dubai, UAE, 16/02/2017
New Indian Model School, Dubai, 15/02/2017
District Industries Center, Thrissur, Kerala, 25/07/2016
GECT Alumni + Kerala Engineers Forum , Hotel Golden Oasis, Muscat, Jan 28, 2016
GECT Alumni annual meet, Hotel Ramada Ajman, UAE, Jan 22, 2016
Synergy international, UAE October 23, 2015
Hannover Messe, Research and Development Section, Germany, April 13, 2015
Vivekalaya Matriculation and Higher Secondary School, Coimbatore, 19/03/2015
Indian Institute of Technology - Delhi, February 28, 2015
Bharatiya Vidya Bhavan, Thrissur, Kerala, 16/01/2015
Foundation for Education Research and Innovation (FERI), Pulamanthole, Kerala, 04/01/2015
Government Engineering College, Thrissur, Kerala, 30/10/14
Indian Institute of Technology, Kanpur, 17/10/2014
Motilal Nehru National Institute of Technology, Allahabad, 16/10/14
Nikita Matriculation Higher Secondary School, Coimbatore, 13/10/2014
GB Pant Engineering College, Uttarakand, 26/09/2014
Kumaraguru College of Technology, 27/08/14
Vijayagiri Public School, Thrissur, Kerala, 01/08/2014
Carmel College, Thrissur, Kerala, 01/08/2014
National Institute of Technology, Silchar, Assam, 01/08/2014
Indian Institute of Technology, Ropar, Punjab, 06/04/2014
National Institute of Technology, Hamirpur, Himachal Pradesh, 04/04/2014
Indian Institute of Technology, Mandi, Himachal Pradesh, 02/04/2014
Indian Institute of Technology, Kharagpur, 31/03/2014
National Institute of Technology, Agartala, Tripura, 29/03/2014
National Institute of Technology, Rourkela, Orissa, 22/03/2014
Indian Institute of Technology, Delhi, 28/02/2014
G B Pant Engineering College, Pauri, Uttarakhand, 24-25/02/2014
National Institute of Technology - Patna, 22/02/2014
Indian Institute of Information Technology, Bhubaneswar, 02/02/2014
College of Engineering - Guindy, Chennai, 31/01/2014
Philips Kitchen Appliances, Chennai, Dec 31, 2013
Veermata Jijabai Technological Institute (VJTI), Mumbai, Dec 28, 2013
National Institute of Technology - Surat, Gujarat, 24/08/2013
Indian Institute of Technology - Gandhinagar, Gujarat, 19/08/2013
Kamaraj College of Engineering, Virudhnagar, Tamil Nadu, 13/09/2013
Bannari Amman Institute of Technology, Sathyamangalam, Tamil Nadu, 14/08/2013
Kumaraguru College of Technology, Coimbatore, 19/04/2012
Government Engineering College Thrissur, at the Innovation Center, Thrissur, Kerala, 22/03/2013
Loyola ICAM college of engineering and technology, 07/03/2013, Chennai.
Dr NGP college of engineering, Coimbatore, 16/02/2012
Indian Institute of Technology, Hyderabad, ELAN 2013, January 19, 2013
MES Engineering College, Kuttipuram, Kerala, January, 14, 2013
Indira Innovation Summit, Jan 12th, 2013, Pune, India
Loyola Institute of Technology, Kanyakumari, January 7, 2013
Indian Institute of Technology Madras, Confluence 2013, January 4th
New Indian Model School, Dubai, Dec 18, 2012
The Model School, Abu Dhabi, Dec 11, 2012
UAE University, Al Ain, UAE, Nov 21st, 2012, on 'You can Invent'
http://www.youtube.com/watch?v=swTFSZf0Iic
TEDx Sharjah, Sept 29th 2012 on 'You too can invent'
Indian Association Al Ain, UAE, July 20th on 'You too can invent, here's why'
Talk at Punjab Engineering College on March 24th, 2012
At Indian Institute of Technology Mumbai, on March 18th, 2012
Indian Institute of Technology, Kanpur, Jan 28, 2012
National Institute of Technology, Calicut, TEDx, January 14, 2012 http://www.youtube.com/watch?feature=player_embedded&v=128ll4yXUfY
National Institute of Technology, Trichy, March 9, 2012
PSG Tech, Coimbatore, April 27, 2012
TEDx National Institute of Technology, Surathkal, Oct 30, 2011 https://www.youtube.com/watch?v=xBlLZOKUoJ0&t=1s